Looking for ways to start a web hosting business?
Here is the blog for you.
Reseller hosting has made it easier to start your web hosting business. If you plan to begin a web hosting business and do not have ample revenue to invest in, getting a reseller hosting plan is the fittest option.
Briefing about Reseller Hosting
Reseller web hosting is a hosting service in which a company (a hosting provider) leases hard drive space and bandwidth to another company (a small-to-medium-sized business), which then rents the space to third parties (entrepreneurs-small business). Reseller hosting is the opportunity to offer web hosting to your clients as if you were a web hosting company. This is common among aspiring entrepreneurs who want to start their own web hosting company.
Reseller hosting is when a company sells server space to another company or an entity by IBM websphere . The customer also called the reseller would purchase a significant amount of server storage space and bandwidth from the hosting service provider. This is mostly at a discounted rate in order for them to make a profit. The merchant host boxes the plans and sells them as a package, including email.
The reseller becomes the third-hosting party's provider.
Reseller hosting allows the account owner to rent out a portion of the storage space and bandwidth that he receives from the merchant company As a result, to the end-users, the account owner or the reseller host acts as a hosting service provider.
Benefits of Reseller Hosting
Reseller hosting plans are fairly inexpensive. You can focus on your business at hand. When you choose reseller hosting, you will concentrate on the business aspects of running a web hosting company rather than the technological aspects. This hosting plan makes room for your business growth. You get extra features with reseller hosting plans. Reseller hosting plans enable you to create your brand.
Getting the Best Reseller Hosting Provider
Talking about the best and the most reasonable reseller web hosting provider, MilesWeb is an India-based web hosting company that provides the best web hosting plans.
About MilesWeb
MilesWeb is an India-based web hosting company providing 70+ web hosting plans. The company offers web hosting plans under shared, reseller, VPS, cloud, dedicated hosting types. MilesWeb was established in 2012 and is providing the best hosting service and plans at affordable cost. The company has data centers in India, the USA, UK, Singapore, Canada and Australia. To date, the company has 30,000+ happy customers. MilesWeb is spreading its roots speedily in the web hosting industry.
Reseller Hosting Plans Given by MilesWeb
MilesWeb provides web hosting plans for Linux and Windows OS.
Linux Reseller Hosting Plans by MilesWeb
Micro, Startup, Grow and Expand are the four reseller hosting plans given by MilesWeb.
The Micro plan is the base plan and has the following resources:
5 cPanel Accounts
10GB SSD Disk Space
Host Unlimited Domains
Unlimited Bandwidth
Free SSL Certificate
cPanel + WHM
Softaculous
Unlimited MySQL DB's
Unlimited Email Accounts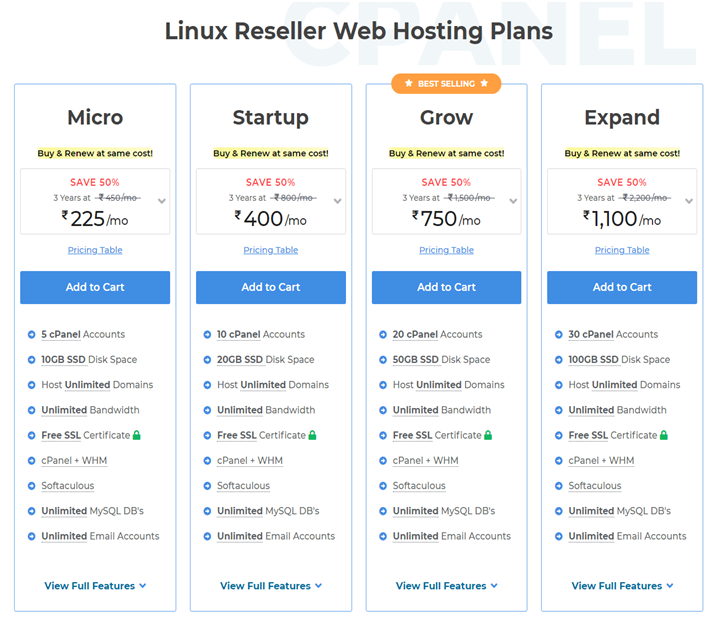 Windows Reseller Hosting Plans by MilesWeb
Neo, Entry, Smart and Plus are the four reseller hosting plans given by MilesWeb.
The Neo plan is the base plan and has the following resources:
10 Plesk Accounts
20GB SSD Space
Unlimited Bandwidth
Free SSL Certificate
Plesk Onyx 17.x
1-Click App Installer
Unlimited SQL DB's
Unlimited Email Accounts
Windows Server 2019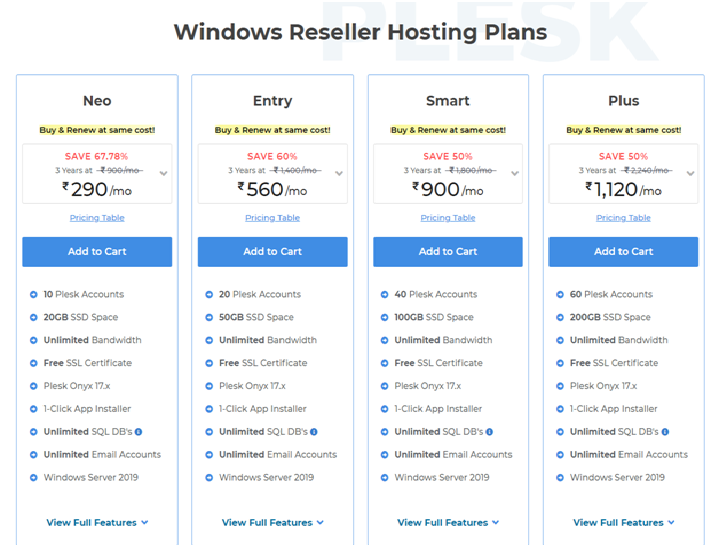 What is on MilesWeb's Priority List?
24/7/365 Support
The expert support team works round the clock to help you and your clients related to any hosting query. The company ensures the most reliable and great customer service
30 Day Money Back
Without questioning MilesWeb refunds you the money you paid, in case you are not satisfied with the pan or service agreement. 
99.95% Uptime
MilesWeb understands that the availability of your website is a top priority for you, and so is for them. The company provides you with the highest uptime with the Tier-3 and Tier-4 data centers.
Benefits of Choosing MilesWeb's Reseller Hosting Plans
MilesWeb enables you to host unlimited websites. There is no restriction on creating subdomains.
You are selling the plan and services under your brand name. MilesWeb certainly does not hinder between you and your clients.
The SSD storage provided by MilesWeb improves the website performance. SSD provides 200 times faster and robust performance than legacy HDD storage.
The WHM enables you to control site performance, resources, etc. You can create and manage multiple cPanel accounts through the WHM. Also, you can create multiple emails.
Plesk/cPanel Control Panel
With the Windows reseller plan, you get a Plesk control panel, and with a Linux reseller web hosting plan you get a cPanel control panel.
With the app installer, you and your clients can install 400+ applications like WordPress, Drupal, Joomla, etc.
With a free website builder, you can make a website in two simple steps: drag and drop. You and your clients can build a professional website without any coding or programming knowledge by simply placing content into themes that are readily accessible.
Malware Scan & Protection
Websites are scanned on a regular basis to prevent viruses from infecting the system, and if any threats are discovered, the company resolves them for you.
You can send and receive from your domain. With the free unrestricted email accounts, you can create a professional business email address. Webmail that works in your browser and supports POP3 and IMAP email accounts, allows you to access your emails from anywhere.
Looking at all the advantages of starting your hosting business with MilesWeb, it is the safest and affordable way to start your hosting business. One of the most cost-effective ways to get your business off the region is to use reseller hosting. Because it is versatile, dependable, and stable, it is the best hosting business option.
The best choice is to buy a reseller hosting plan from a company that provides managed web hosting services at a low cost with excellent customer service.